Spencer Elias was the 2014 School of the Art Institute of Chicago Awardee of the Edes Foundation Prize.
Spencer was born in San Francisco in 1987. He graduated from the University of Oregon in 2011 before receiving his MFA from The School of the Art Institute of Chicago in 2014. Stucky has exhibited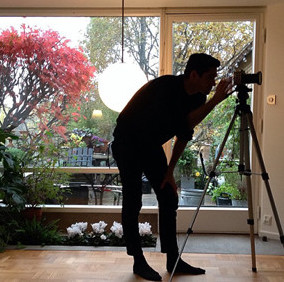 in the US and abroad including the Elmhurst Art Museum, and Schingoethe Gallery, at Aurora University, as well as featured in Ambit Magazine (London), and other publications.  Stucky currently lives and works in Chicago, IL and is an instructor at the School of the Art Institute.
By Way of Repose, his Edes year project, is a film that examines a connection between photography, avant-garde dance, and architecture in Stockholm during the 1930's. Social and familial ties of three figures from this period are used as a narrative framework: architect Eskil Sundahl, Eskil's son – architectural photographer Sune Sundahl, and dancer Birgit Åkesson. The film features the choreography of Trisha Brown, to highlight a continuing lineage of influence of this location within Modernism. Soloists from the Royal Swedish Ballet performed Brown's Accumulation pieces in locations that hold a historical significance to the period and individuals examined in the film.